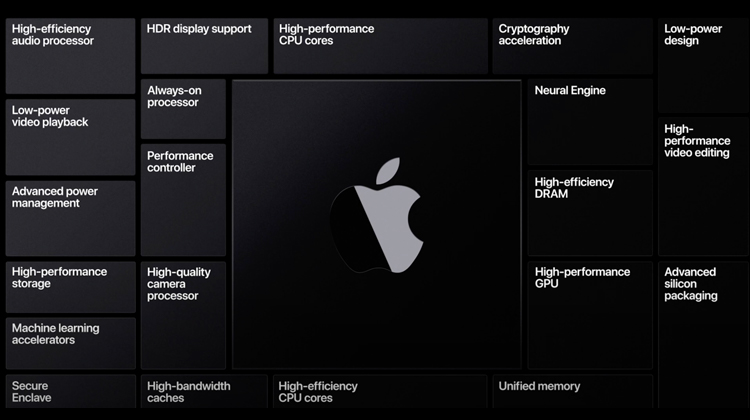 Apple Silicon – Predictions for the future of the Mac
Apple Silicon was a huge announcement at this year's WWDC (2020). Apple has always prided itself on can be achieved with a tight control of hardware and software, and with Apple Silicon they control even more of the hardware. For a primer on how apple is pulling this off, and a bit of a technical review of what's happening read my article "Apple Silicon – How is Apple Doing This". For this article I wanted to explore some predictions for what future Apple Computers could be.
My predictions:
1) New device form factors.
2) Inclusion of iOS standard hardware components on Mac SoC's means new device capabilities.
3) Return of an ultralight non-pro Macbook.
Let's look at some of the information from the WWDC Keynote that supports these.
New Device Form Factors
When trying to predict what Apple will do you, you really have to read between the lines. During the WWDC 2020 Keynote Tim Cook stated: "When we make bold changes, it's for one simple yet powerful reason: so we can make much better products. When we look ahead, we envision some amazing new products, and transitioning to our own custom silicon is what will enable us to bring them to life."
What I find to be key here is "Envision some amazing new products". To me, this is Tim saying they're working on things we haven't seen before, and products that are more than just Macbook Pro revisions. The concept of an iPad/Macbook hybrid is often times speculated about, and often discounted. However, I have to believe there's a lot to be gained by bringing the platforms somewhat closer together.
How do you evolve the size and shape of a Macbook further? How do we get to a device as small as in iPad, but as powerful as a Macbook Pro? I think this is where a custom SoC comes into play. The iPad Pro's already out benchmark some intel laptops, while the iPad SoC performs more functions than the Intel chips alone.
I think we'll see thinner, lighter Macs, possibly with Touch Screens. Let's not forget Microsoft has in reality outdoing Apple in terms of imagining new devices. Just look at the Surface lineup. They have tablets, laptops and the 28" Surface Studio.
New Device Capabilities.
If we can review Johny Srouji's statement: "Our scalable architecture includes many custom technologies that when integrated with our software will bring even more innovation to the Mac." And the custom technologies slide (https://youtu.be/GEZhD3J89ZE?t=5513). This slide looks similar to an iOS or iPhone/iPad announcement presentation slides. Apple has already spent a lot of time perfecting the capabilities listed here in their mobile devices and OSes, and they would make great enhancements to the Mac.
By having the same CPU features as an iPhone, we could see things like TouchID, and maybe FaceID, handled by the CPU/SoC as opposed to needing a separate T1/T2 chip. The reduction in specialized processors lends further evidence and the ability to reduce the size of the device.
The inclusion of the Neural Engine means these will be some of the first mainstream machines with dedicated hardware for Machine Learning. Apple uses machine learning behind the scenes in some pretty innovative ways, ranging from optimized charging to adapting for better accuracy in where users tap on the iOS keyboard.
I also think it's possible to see an Afterburner Light type of functionality, where decoding and encoding 4K HDR is built into the chips. The A14 Bionic in the new iPhone 12s includes "HDR Video Processing", which I believe will be carried into the Mac lineup.
And something I'm hopeful for, we may finally see higher quality web cams built into the Mac as the CPU can handle more video processing. Maybe. Possibly.
The Return of an Ultralight Non-Pro Macbook
I don't have a ton to back up the prediction that well see an ultra-portable (possibly 12") Mac again, but it seemed like a lot of the desertion of that line was processor related. When Johny Srouji states:
"…we're designing a family of SoCs specifically for the Mac product line." we should look at the Key phrase of "Family of SoCs". This means Apple isn't simply talking about one processor/SoC. When we look at the iPhone, we tend to see a single SoC across an entire year's line – i.e. all iPhone 11's have the A13 Bionic. including the 11 Pro and Pro Max. All iPhone 12's have the A14 Bionic. If we look at the Mac product line, we have devices that span from the Macbook Air all the way through to the new Mac Pro. And while the iMac's may contain laptop grade processors, the iMac Pro and Mac Pro certainly have much more horsepower. It's clear here each type of computing will have an SoC to match. I could easily see Apple using a laptop version of the A14 in a new ultra-portable Mac.
It's also worth noting the name of probably reveal event is "One More Thing". Last time Steve Jobs said that at a Mac event he unveiled the first Macbook Air. I think every fan boy would love it if we saw another Macbook emerge from an intraoffice envelop.
Summary
There's a lot of attention on Apple Silicon, and I think tomorrow's One More Thing event will bring some clarity to Apple's initial plans. Long term I believe my predictions of new device form factors, new device capabilities, and the return of an ultralight non-pro Macbook are highly likely.