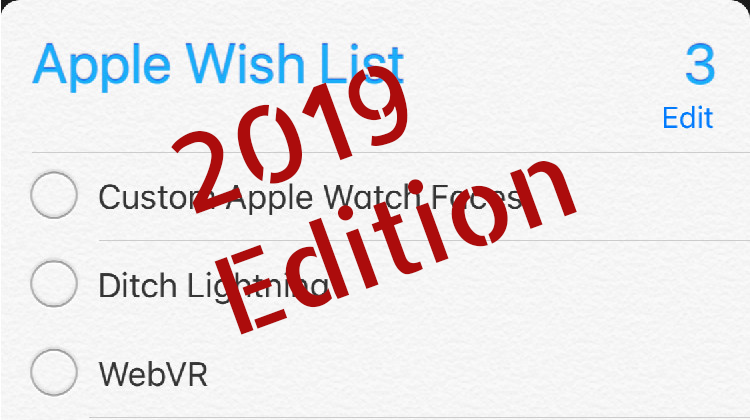 Every year just before WWDC I like to take stock of Apples ecosystem and think of all the things I hope Apple will change or create or announce.  While Apple's pushed out quite a few new products this year and some of the original details from last year's list have been addressed there are still quite a few carry overs.
Multi-Timer Support for Siri
I'm basically adding this because Lauren Goode of Wired said she'd cook for everyone if we get this.  Plus, Alexa does it without breaking a sweat so…come on Siri.
Ditch Lightning
Ditch Lighting and go full on USB-C for every device (except Apple Watch since that's purely inductive).  Last year I called this bold but this year Apple transitioned the iPad Pro to USB-C and even came out with an Apple Watch Charger that has a USB-C connector.  The fact that a $1,000 iPhones still come with a Lightning to USB A that doesn't work on its own with the current generation of MacBook Pros is still atrocious (and the 5 Watt charger has to go).  At the very least it's time to include a  Lightning to USB-C cables and the 18 Watt charger with every new iPhone.
One Wall Charger for Everything.
Or at Least a 2 or 3 USB Port Charger.  This is a carry-over from my past two lists… but while we're on the topic of cables and charging…  You sold me a phone, a watch, an iPad, and a laptop (I'm still lusting after Airpods).  It's only fair you sell me something I can at least charge my watch and phone with.  Aukey does it for $10.  Apple can't for $20.  AirPower was sadly discontinued…I still yearn for an 85 Watt Apple charger with enough ports for all of my gear.  5 USB-C PDs anyone?  Admittedly no one has a charger with more than 2 USB-Cs that I've seen, but the use case is still there.
WebVR
2 year's agothere were big announcements around VR and external graphics card enclosures.  There is still no WebVR support on Safari.  While Chrome continues to satify this use case on MacOS, the lack of support on mobile safari means iOS is dead in the water.  You still can't even view 360 youtube videos in Safari.  (https://bugs.webkit.org/show_bug.cgi?id=135379) and (https://bugs.webkit.org/show_bug.cgi?id=170455)
CoreNFC Transmit
So, I'm thinking this year's going to be the year.  This is the year we'll be able to transmit NFC signals from an iPhone.  And while this is years behind Android, we have Express Transit now, and Apple is working to expand the NFC reading capabilities so that the iPhone can UK passports for some Brexit activities.
The speculation here is that Apple won't enable/create NFC transmit functionality to prevent non-Apple Pay payment apps from cropping up.  However, since Apple controls the app store I feel like it would be easy for them to prevent that from happening (which could open a legal can of worms but that's a topic for another day)
At the end of the day ( and another year) I still can't truly leave my wallet at home while I need my work NFC badge to get into the building.  I'd argue this would actually drive adoption of Apple Pay vs hamper it because more people would start to view their phone as their wallet.  I guess for now we'll still just live with the NFC stickers you can put on cases.
Custom Apple Watch Faces
5 years in  and we still don't have the capacities of Pebbles or Wear OS.  I'm going to let that hang out there for a moment.  What Apple calls "Apple's Most Personal Device Ever" doesn't actually allow me to personalize the watch face.  I'd honestly almost settle for better complication support on the Photo watch face.
Affordable Watch Bands
This is a carry-over from the past two years as well.  $50 for a rubber watch band still sounds crazy.  I know it's "fluoroelastomer" which is a fancy word for elastic rubber.  Sure according to Phone Arena (http://www.phonearena.com/news/The-Apple-Watch-Sport-straps-are-all-made-of-fluoroelastomer—here-is-what-this-means_id67029) it's an expensive polymer used for "fuel-distribution systems"(I'll admit fuel if it's gasoline can really eat away at stuff).  And yeah, they keep adding new colors every season for variety.  But $50 for a rubber watch band is still just too expensive.  Even the Nylon bands still come with a hefty price tag of $50 (the non-Apple Clockwork Synergy bands start between $26.95 and $29.95 based on size).  I honestly would buy more of the authentic Apple brand watch bands if they weren't so expensive.
Better AirPods
I kept this one on the list for a few reasons.  First, I still have a hard time believing these things would actually stay in my ears, so I really want to see AirPods with some sort of foam or rubber.  I know that the new Beats Pro have this, but they're $100 more and much bulkier.  Secondly, albeit a bit further flung and less important, Active Noise Cancellation would be a great feature to add.  From what I can tell the second-generation Air Pods are now Bluetooth 5.0 which is a great improvement to have.  I'd love for these things to be made waterproof but that just seems more far away so I'm downgrading it.   Also…they still don't come in black… Bruce Wayne would never own these until they came in black.
Lower Cost HomePod
I kept this one because I'm still chasing the dream of having a single unified system for all of my home automation.  The sad current state is I use 3 different voice assistants, each with its own quirks and supported devices in my apartment.
I get what Apple was going for with the HomePod; a luxury assistant speaker that was also a high-end sound product. The competitor to Alexa but sound wise akin to a self-adjusting sound bar or a Sonos.  I'm not sure you can really replace a sound bar with only one HomePod and not a pair of them, which makes it highly cost prohibitive for most. Until a lower price point device is released I still don't see HomePod cutting into the Alexa and Google Home market, which sucks for those of us who've bought into Apples ecosystem.  A  HomePod Light or a HomePod Mini that lets me use Siri to control all of the new Airplay 2 supported devices could make huge inroads into the smart speaker market.
Figure Out iTunes
This week we're getting rumors that this is happening.  Let's face it, iTunes has been a mess for a long time.  Winamp was always my favorite, but with my shift to an iPod and purchasing music from Apple iTunes became the only way to sort through and synchronize my music.
Updated Mac Pro
Honestly, this is less for me as price puts the trash can out of reach for me right now, but it's past time. Apple has said they are working on a new model…but that was a while ago.  I'm not sure anyone else in the computer market takes this long to come out with updated designs.
Some Other Random Thoughts
MacBook's with Keyboards that don't suck – This has supposedly been addressed on the new models, we'll wait and see.
More affordable external 3D graphics – I really want to pick up a Vive or Rift S but right now that means I spend $500 on an external graphics setup or $800 on a dedicated PC.