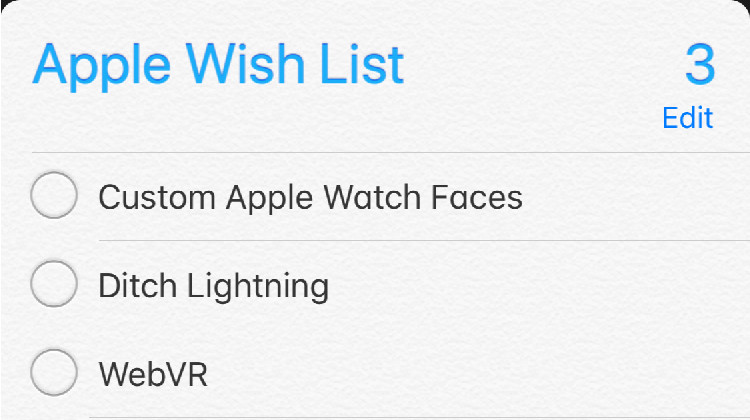 It's conference season and with Apples World Wide Developer Conference days away there's a lot of talk about what to expect.  I've taken a bit of a different approach however and put together my thoughts on what I'd like to see, regardless of what's possibly practical.  Prior to last year's WWDC I put together a similar wish list, and much to my excitement Apple actually rolled out a few of my asks.
Note: You can read some great prediction coverage from The Emmy Award Winning Lauren Goode of Wired here: https://www.wired.com/story/apple-wwdc-2018-what-to-expect/
Chris Velazco of  Engadget here: https://www.engadget.com/2018/06/01/wwdc-2018-preview/
And Chaim Gartenberg of the Verge here: https://www.theverge.com/2018/5/31/17409110/apple-wwdc-rumors-ios-12-mac-os-2018-keynote-date
Regardless of what is announced Monday it's sure to be an exciting week.
Ditch Lightning
Ditch Lighting and go full on USB-C for every device except Apple Watch.  Yeah, I know it's bold and Apple won't do it despite the fact that everyone is asking for it.  I don't think we gain much from Lightning that USB C doesn't give us.  It's possible Lightning is a little bit smaller, but honestly enough with trying to make our phones as small as they can be while sacrificing functionality.  The fact that iPhones still come with a Lightning to USB A that doesn't work on its own with the current generation of MacBook Pros is atrocious.
One Wall Charger for Everything. Or at Least a 2 or 3 USB Port Charger
Yep, another carry-over from my previous list but while we're on the topic of cables…  You sold me a phone, a watch, an iPad, and a laptop.  It's only fair you sell me something I can at least charge my watch and phone with.  Aukey does it for $10.  Apple can't for $20.  The much-discussed AirPower is still vapor.  Why can't there be an 85 Watt Apple charger with enough ports for all of my gear?
WebVR
Last year's big announcements were around VR and external graphics card enclosures.  How about some WebVR support on Safari?  It's not as much an issue on MacOS since you can download a browser with support, but mobile safari not supporting it means iOS is dead in the water.  You can't even view 360 videos.
CoreNFC Transmit
While the addition of the ability to read NFC tags was a welcome one, we still can't transmit NFC data from our phones.  Apple Pay can, but that's about it.  I can't truly leave my wallet at home while I need my work NFC badge to get into the building.  I'd argue this would actually drive adoption of Apple Pay vs hamper it because more people would start to view their phone as their wallet.  I guess for now we'll just live with the NFC stickers you can put on cases.
Custom Apple Watch Faces
Having the ability to create my own Apple Watch face is long overdue.  Pebble had this ability; Wear OS has this ability, Samsung Gears have it. Apple Watch…not so much.  Sure, I could use a photo watch face, but then I'm limited to the number of complications I can have on it.
A Round Apple Watch
I still have trouble some days wearing a square watch.  And honestly, I'm starting to get bored having worn the same watch every day for 3 years.  I've collected a few bands, but still a change would be nice.  I doubt we'll see it this refresh cycle as Apple just made some big changes under the hood for Series 3, but I'm still going to look for more.
Affordable Watch Bands
This is a carry-over from my prior list but $50 for a rubber watch band still sounds crazy.  I know it's "fluoroelastomer" which is a fancy word for elastic rubber.  Sure according to Phone Arena (http://www.phonearena.com/news/The-Apple-Watch-Sport-straps-are-all-made-of-fluoroelastomer—here-is-what-this-means_id67029) it's an expensive polymer used for "fuel-distribution systems"(I'll admit fuel if it's gasoline can really eat away at stuff).  And yeah, they keep adding new colors every season for variety.  But $50 for a rubber watch band is still just too expensive.  Even the Nylon bands still come with a hefty price tag of $50 (the non-Apple Clockwork Synergy bands start between $26.95 and $29.95 based on size).  I honestly would buy more of the authentic Apple brand watch bands if they weren't so expensive.
Better AirPods
While I hear they are great from people who have them they could be even better.
First Apple should update them to include/allow people to use some sort of foam or rubber tips to allow them to fit different ear sizes and to seal out more noise.  Second update them for Bluetooth 5.  Third make them water proof.  Bragi did it…Fourth Bruce Wayne would never own these until they came in black.
Lower Cost HomePod
I get what Apple was going for with the HomePod; a luxury assistant speaker that was also a high-end sound product. The competitor to Alexa but sound wise akin to a self-adjusting sound bar or a Sonos.  I'm not sure you can really replace a sound bar with only one HomePod and not a pair of them, which makes it highly cost prohibitive for most. Until a lower price point device is released I just don't see HomePod cutting into the Alexa and Google Home market, which sucks for those of us who've bought into Apples ecosystem.
Macbook Air Updates
Come on Apple show the Air some love.