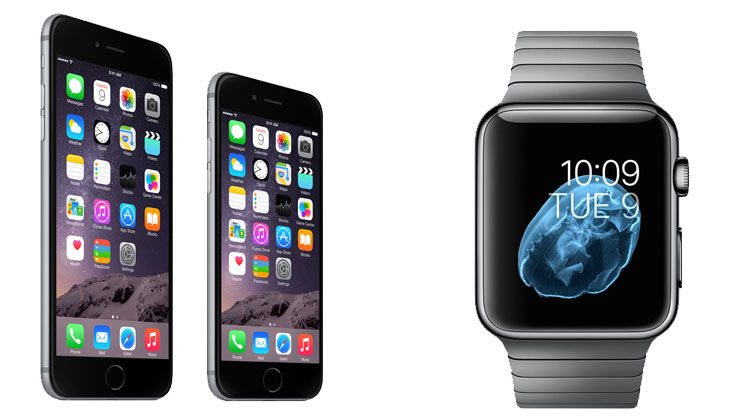 So Apple just announced quite a few new products. While the tech blogs did a great job of covering the event I just wanted to provide a quick summary.
iPhone 6 and 6 Plus
Apple just announced two phones, the 6 and the 6 Plus both of which are larger then the current 5S and 5C.
The 6 will feature a 4.7 inch screen at 1334×750 pixels.
The 6 Plus will feature a 5.5 inch screen at 1920×1080 pixels (1080p).
Both receive a bump in camera specs with the 6 Plus receiving optical image stabilization.
Under the hood they will both have a more powerful processor dubbed the A8 and an updated motion processor.
Both of these phones will also feature Apple Pay. Apple Pay works in conjunction with Touch ID and a new NFC (Near Field Communications) chip/antenna for contactless payments.
The iPhone 6 starts at $199 and the 6S starts at $299 with both available on September 19th (preorders September 12th) coinciding with the release of iOS 8.
Apple Watch
Many believe this was the bigger announcement of the event, and they may be right. As speculated Apple is indeed coming out with a watch, and it's called simply The Apple Watch.
The Apple Watch features a touch screen and a "Digital Crown"
What I consider to be extremely important is the inclusion of NFC for Apple Pay. I'm very curious to see if NFC will be opened up for developers, there was mention of the Watch being able to open your room at a Starwood hotel, not sure if that's NFC or BLE however.
The Apple Watch is very fitness focused, taking on a lot of the duties of todays wearables while still having some pretty sweet watch faces and capabilities. There's also the ability to make a friends watch vibrate and send them doodles.
The Apple Watch will be available in 2015 and is broken down into 3 different classes of style based on your personal tastes. The current price is listed as $349.
What else should I know?
Well go to iTunes NOW because U2's latest album is being given away exclusively and for free until October 13.
Also the 5C and the 5S aren't going away, there are however receiving a price cut with the 5C at 8GB being offered for free (2 year contract) and the 5S starting at $99 (2 year contract).